Rum is a spirit that is Passover-friendly, so let's taste a couple of rum types & make a couple of simple rum cocktails…a Daiquiri and a Grog. No beach required!
Ok'd for Passover
Last week I wrote about Flourless Chocolate Walnut cookies as one solution to the challenge  we bakers face when trying to work within the rules for Passover (i.e. not using barley, oats, rye, spelt, or wheat as ingredients). This week's post is usually when I put on my whisky reviewer hat, and, lo and behold, those same ingredients feature prominently for whisky and bourbon expressions. So what's a trying-to-follow-Passover-blogger to do? How about review something that does fall under the ok-for-Passover umbrella…rum!
A product of sugar cane (and a cousin to molasses), rum is a spirit that's fine for the holiday. I reviewed Bully Boy rum before, and this time I thought I'd compare two types of rum I had in my kitchen…Bacardi Superior white rum and Brugal Añejo Superior dark rum. Then, just for grins & giggles, I'll make simple rum cocktails from them and review those as well. Good times!
Let's get to the first tasting…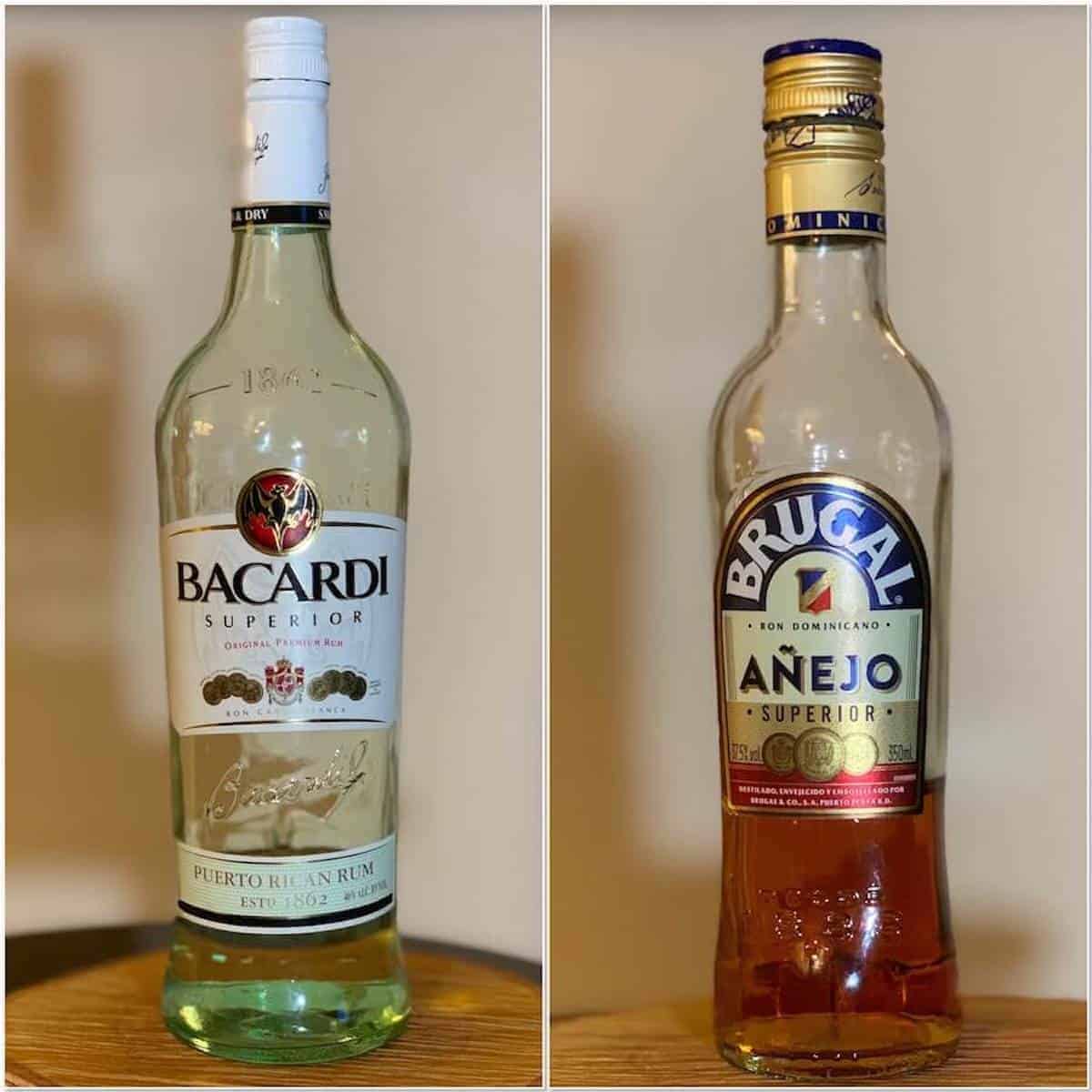 Bacardi and Brugal Rums
At home, April 22, 2019
Bacardi Superior
40%ABV, developed in white oak barrels
Tasting Notes
Nose: light white sugar, light citrus, hint of almond

Taste: sweet white pepper, hint of almondin the middle, light vanilla

Finish: alcohol warmth lingers with white sugar and a touch of almonds

Comments: great as a mixer; alone, flavors are muted
Brugal Añejo Superior
37.5%ABV
A blend of rums aged 3 to 5 years in used American white Oak barrels that previously held whiskey and bourbon. 
Tasting Notes
Nose: dark brown sugar, oak, hint of lemon, light caramel

Taste: strong sugar cane taste (unrefined sugar syrufollowed by dark woody notes, like chewing on a piece of sugar cane, light body

Finish: cane notes linger along with a hint of baking spices

Comments: I didn't know what to expect, so the contrast between the dark sugar cane influence and a woody darkness is striking
Moving right along…
The tasting notes above were a good start, but most of the time rum is used as a mixer rather than had straight. In looking for recipes for simple rum cocktails, I came across Supercall.com's 8 Easiest Rum Drinks. Two looked especially enticing to me, a classic Daiquiri, and Grog (say it with me now in your best pirate voice, "Aaaarg!"). Both these cocktails used the same three ingredients, rum, lime juice, and simple syrup, so comparing the differences between the Bacardi white rum and the Brugal dark rum would be easier.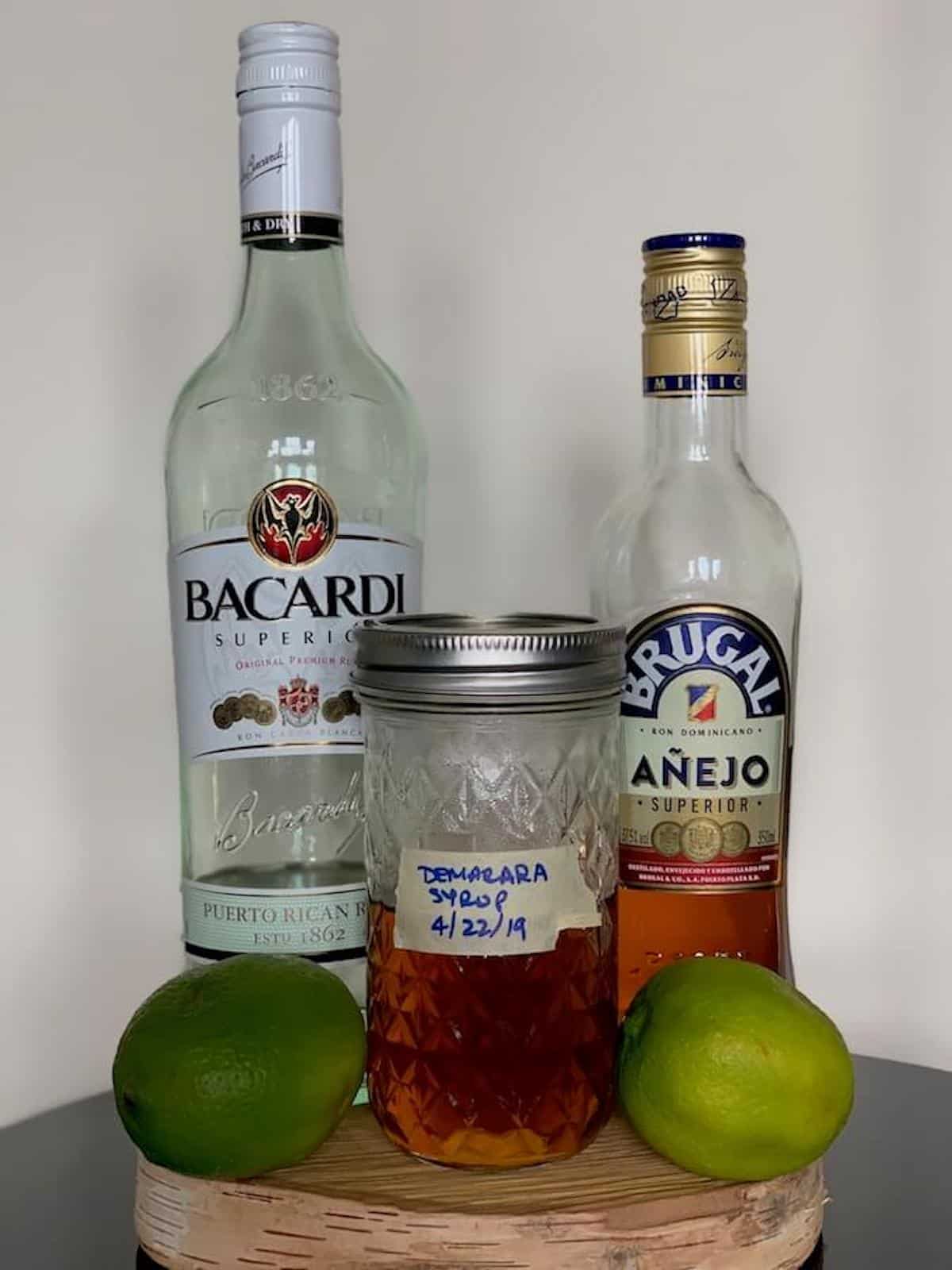 Actually, the recipes I made used Demerara Syrup, made with brown demerara sugar (similar to turbinado sugar, like Sugar in the Raw, which is what I had on hand) instead of white granulated sugar. The benefit of using demerara syrup was that it brought an undertone of molasses to the syrup, allowing it to really enhance the rum flavors in the cocktails. Here's how it's made…
Turbinado (Demerara) Syrup
Ingredients
1/2

cup

turbinado sugar (3-3/4 oz, 107g)

or demerara if you've got it

1/2

cup

water
Procedure
Combine the water and sugar in a small saucepan and bring to a boil. Reduce to a simmer and stir until sugar dissolves, about 2 minutes. Immediately take the saucepan off the heat.

Let cool, then pour into a container (something clear to show off your nice golden syrup) and store in the refrigerator for up to one month.
Notes
As with other syrups, a 1:1 ratio of equal parts water and sugar is standard, but feel free to augment as required by recipes or for personal taste.
Finally, the cocktails…
The recipes and the tasting notes are below…
Daiquiri
Special Equipment
martini shaker

fine mesh strainer
Ingredients
2

oz

white rum (4 Tbsp, 60ml)

like Bacardi white rum

0.75

oz

turbinado syrup (1 1/2 Tbsp, 22ml)

0.75

oz

lime juice (1 1/2 Tbsp, 22ml)
Procedure
Add all ingredients to a martini shaker filled with ice, shake 20-30 seconds

Strain through a fine mesh strainer (to remove any ice particles) into a chilled lowball glass.
Notes
For a slightly less sweet, more citrus forward drink, use just half an ounce of the syrup.
For a Strawberry Daiquiri, muddle fresh strawberries in your shaker tin (prior to shaking) or cut the syrup ratio to half an ounce and add half an ounce of Massenez Wild Strawberry Liqueur.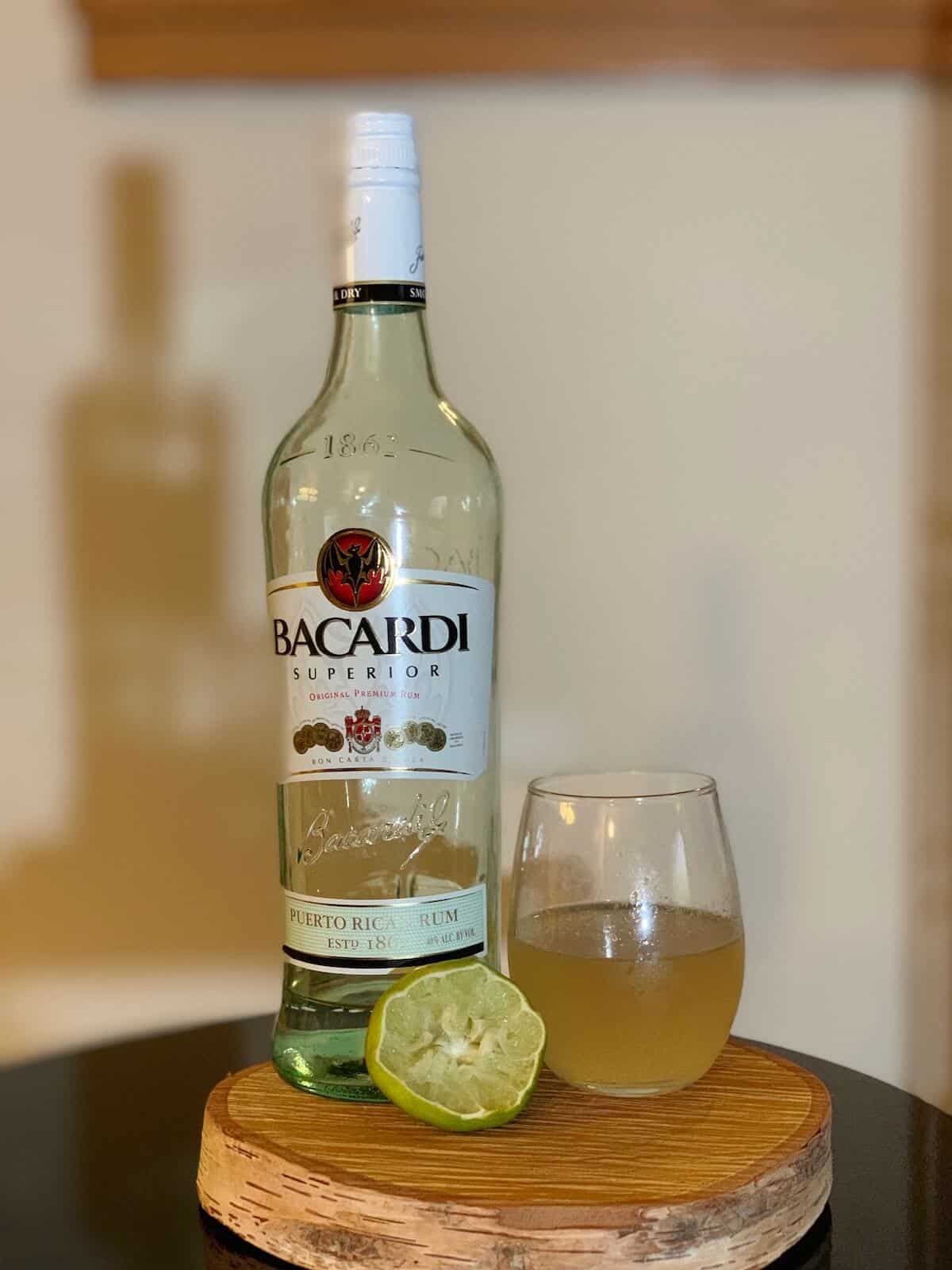 Grog
Ingredients
2

oz

dark rum (4 Tbsp, 60ml)

like Brugal Añejo

0.75

oz

lime juice (1 1/2 Tbsp, 22ml)

0.50

oz

turbinado syrup (1 Tbsp, 15ml)

1

oz

water (2 Tbsp, 30ml)
Procedure
Add all ingredients to a martini shaker filled with ice and shake 20-30 seconds

Pour into a lowball glass and enjoy
Notes
Grog can also be served with hot water, sans ice.
You can use a tiki-mug if you're feeling adventerous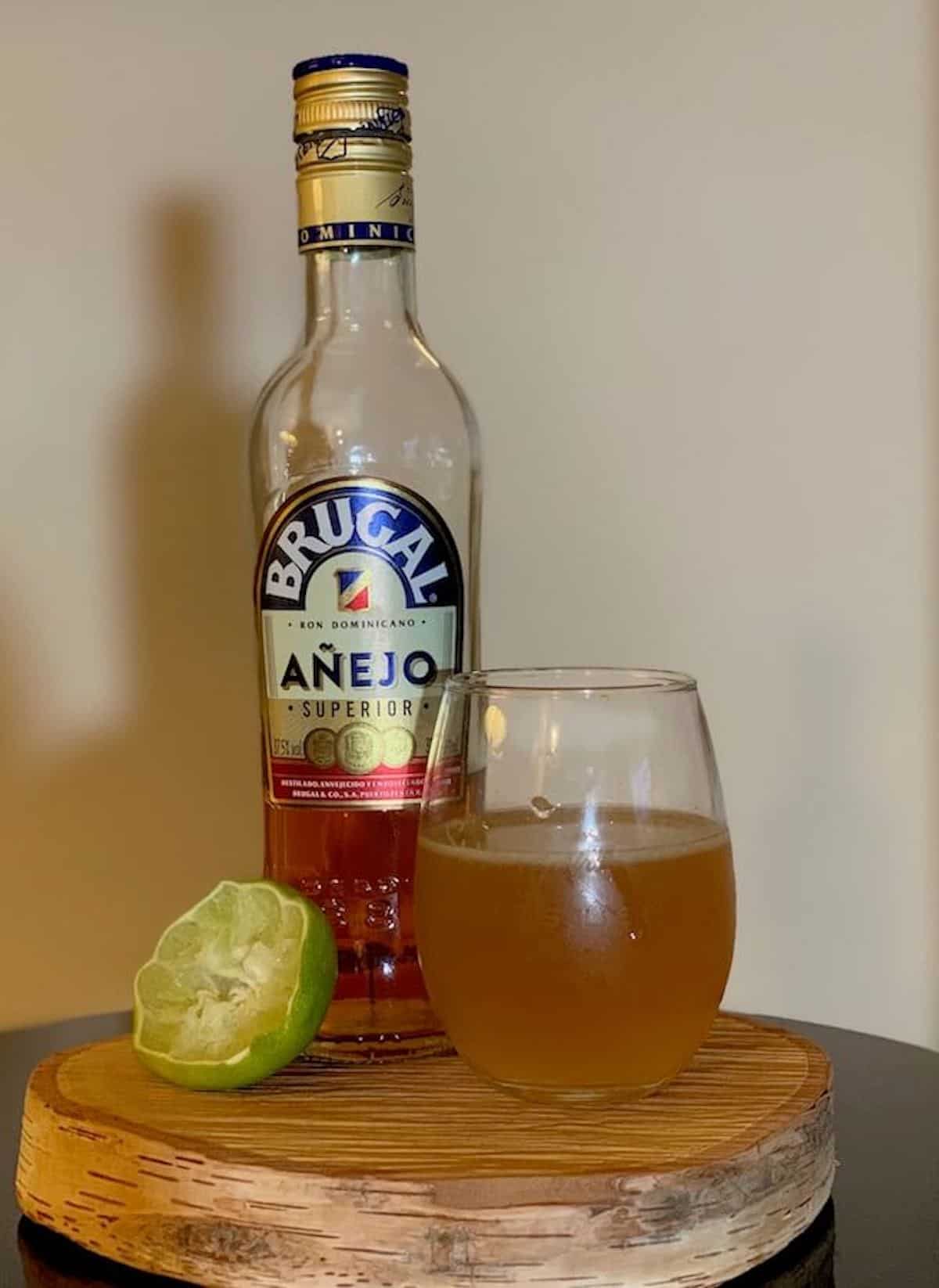 I thought I'd like the Brugal and Grog over the Bacardi and Daiquiri (given it's aged, like scotch), so I was surprised that the Daiquiri won out for me. Both of these simple rum cocktails would be lovely to sip on a summer evening…on a beach…with swaying palms…sorry, got carried away for a moment. I really enjoyed the clean crispness of the Daiquiri and the clean rum flavor this time. That's not to say that if a tiki-mug filled with Grog were handed to me that I'd turn it away, not by a long shot. Now, my drink is waiting, along with the swaying palm trees in my imagination, and Passover is almost over. Aaaarg!
Slainté! L'chaim! Cheers!
Tammy
(Visited 70 times, 1 visits today)