Father's Day t-shirts are a Father's Day tradition with us, and so are Quick Cinnamon Rolls. Making something special for Dad is how we roll!
It's Father's Day!
This is a special Father's Day post because…well, just because. When my husband celebrated his first Father's Day, I made him and my older daughter special T-shirts for the day. The following year, I did it again. I called it "A Flag for a Dad," and I used her little handprints as the stars. So adorable, so I continued…and a Father's Day tradition was born. Every year, for the last 26 years (counting today), my husband has received a handpainted shirt with my daughters' handprints incorporated into the design. Some shirts were inside jokes, or silly sayings, or just a nod to what he (and the girls) did together, but each shirt was an ode to a loving man who cares deeply for his family. When they were old enough, my girls took over the project. And even though they currently live on opposite coasts, they've still managed to create beautiful designs that are truly made with love.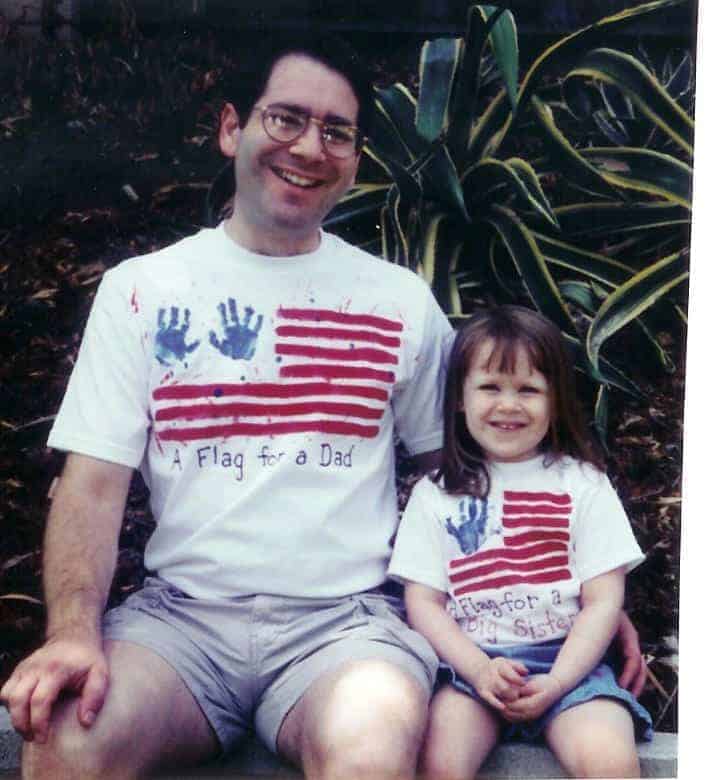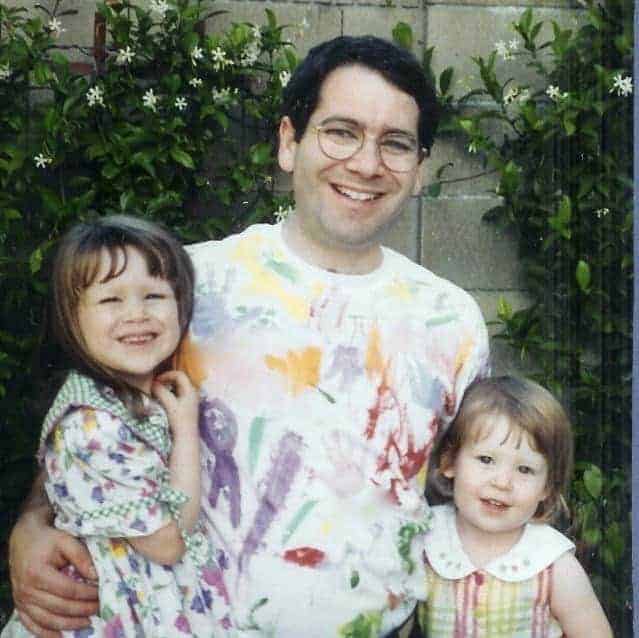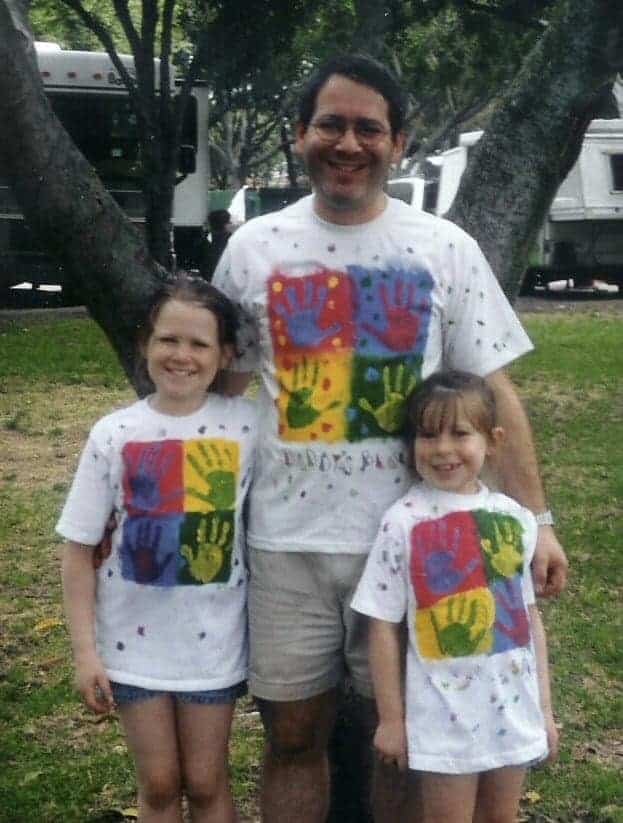 Another Father's Day tradition
I make brunch for whomever is around, so today I decided to make quick cinnamon rolls. I love Christina Lane's website Dessert for Two because she downsizes recipes to a manageable level, and since generally my husband and I are empty nesters, her recipes work very well for us. Christina's recipe for Quick Cinnamon Rolls for Two is wonderful because, as the title says, it's very quick and easy to make, with no rising time because we're not using yeast. The dough is more like a soft biscuit rather than a firmer yeasted dough, so it comes together pretty much while the oven is preheating. When I made it this morning, I decided to double the recipe…the finished rolls freeze really well.
Quick Cinnamon Rolls
Ingredients
Dough
3/4

cup

all-purpose flour

2

Tbsp

granulated sugar

,

divided use

1/2

tsp

baking powder

1/4

tsp

baking soda

1/8

tsp

salt

5

Tbsp

milk

1

tsp

apple cider vinegar

4

Tbsp

butter

,

melted, divided use

3

Tbsp

light brown sugar

1

tsp

cinnamon
Glaze
1/2

cup

powdered sugar

1

Tbsp

cream or milk

1

tsp

vanilla extract
Procedure
Preheat the oven to 375°F, and spray 4 cups in a muffin pan with cooking spray (or use extra melted butter).

Combine the flour, 1 tablespoon of the sugar, baking powder, baking soda, and salt in a medium bowl.

In a small measuring cup, combine the milk, vinegar, and 2 tablespoons of the melted butter.

Add the wet ingredients to the dry, and stir until a soft dough forms.

Heavily flour a work surface, and pat the dough out into a rectangle about 6" long. Use plenty of flour as you go.

Pour the remaining 2 tablespoons of melted butter on top of the dough.

Combine the brown sugar, cinnamon, and remaining 1 tablespoon of granulated sugar. Press this mixture lightly into the butter on top of the dough. Carefully, roll the dough up starting with the long side. Roll away from you. When you get to the end of the dough, pinch the entire seam shut.

Cut the dough into 8 equal pieces, drop into the greased muffin cups, and bake for 14-15 minutes.

Meanwhile, mix the powdered sugar, with enough milk or cream to create a pourable glaze. Stir in vanilla extract.

Glaze the cinnamon rolls when they come out of the oven, and serve warm.
Recipe Notes
I made a glaze with 1/2 cup (60g) powdered sugar, 1 Tbsp milk, & 1/2 tsp vanilla extract instead of the cream cheese frosting. I also added 1 tsp vanilla extract to the dough, and reduced the white sugar in the dough to 2 tsp & omitted it entirely from the cinnamon brown sugar filling. Believe me, these rolls are sweet enough!
These rolls are quite adaptable, too. Instead of cinnamon rolls, you can substitute a thick fruit jam, say strawberry or raspberry and add mini chocolate chips. Or how about apricot or orange marmalade with chopped candied ginger? I love recipes I can riff on!
So as you celebrate your father (either in person, from afar, or in memory), remember that taking a few minutes to make something special (a shirt? Quick Cinnamon Rolls?) is just as valuable as any gift you can give (if just for yourself)…it's the gift of thought and effort. And that's a Father's Day tradition to celebrate.
Happy Father's Day!
Slainté! L'chaim! Cheers!
Tammy
(Visited 16 times, 1 visits today)